Connecting Muslims
Find quality friends, roommates, a soulmate, and grow your network. Available in the Apple App Store now. Sign up to be notified when Android is ready.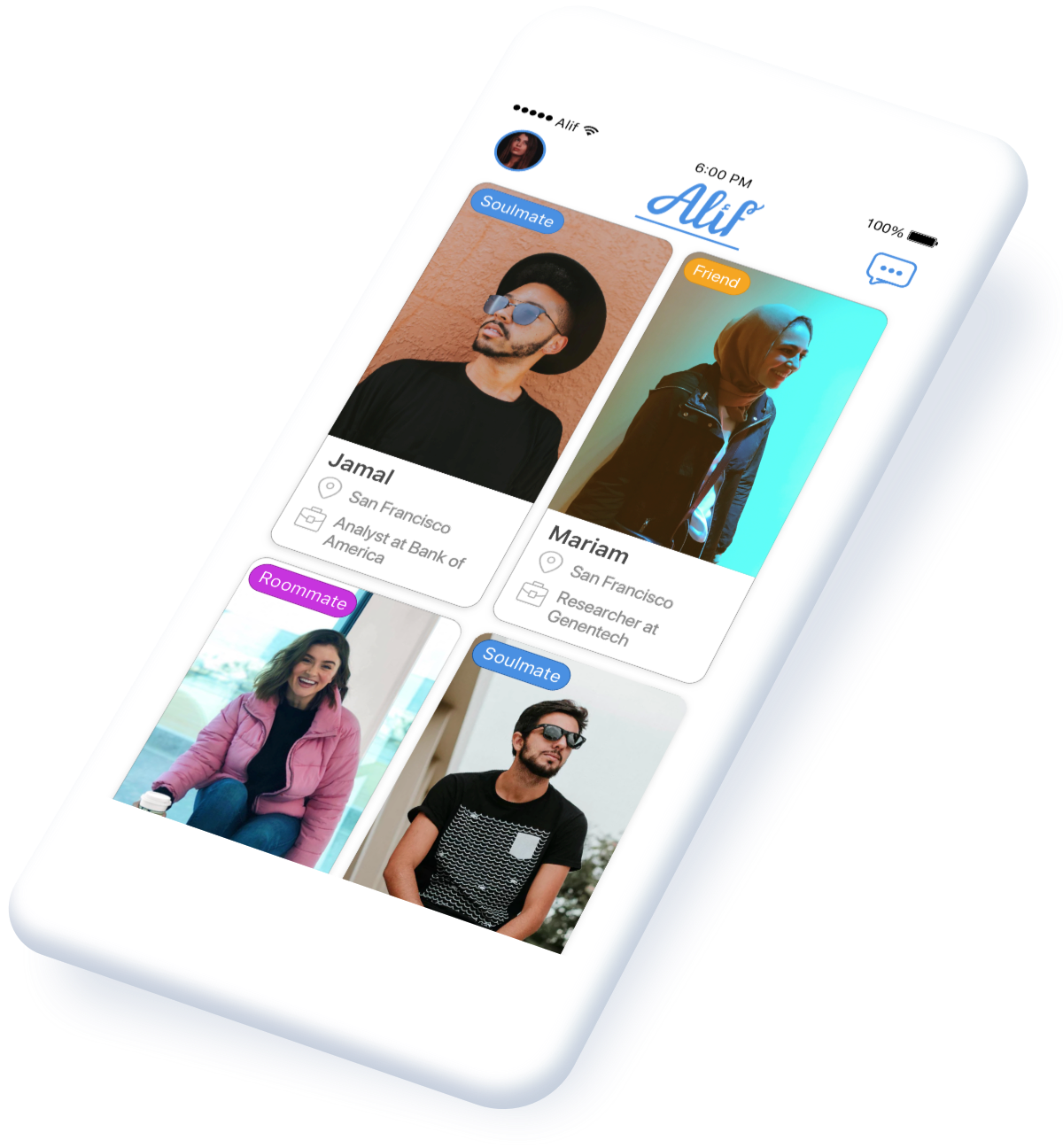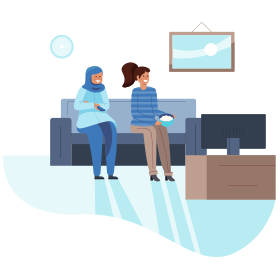 Find Roommates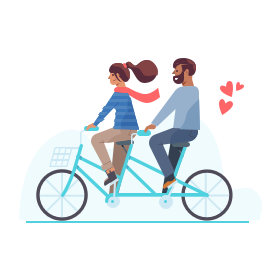 Find a Soulmate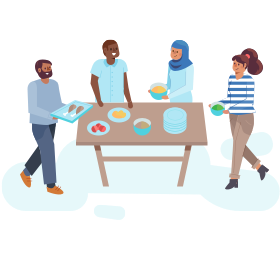 Find Friends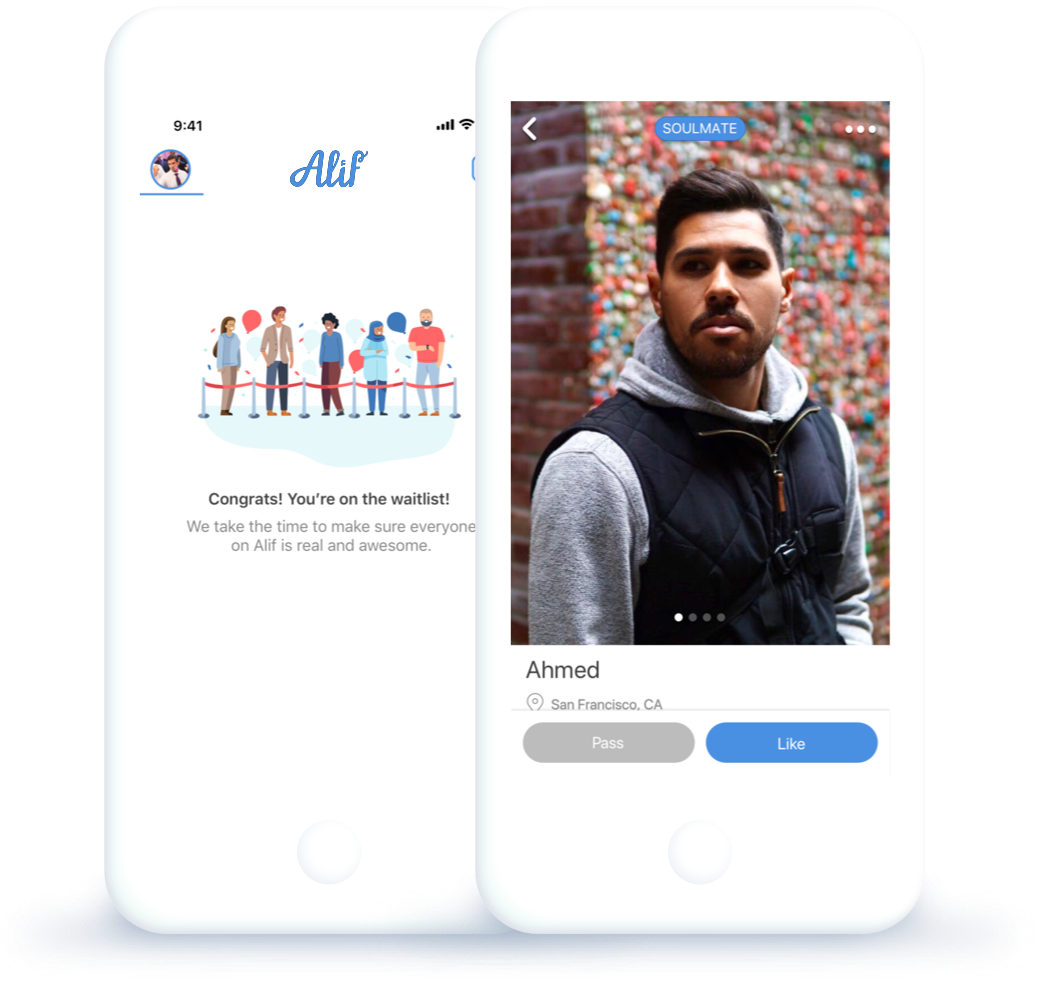 Quality Over Quantity
Everyone is welcome on Alif! It's a community for all Muslims...but we want you to put your best foot forward. We have a waitlist to make sure everyone that joins Alif is real and takes the time to put together a quality profile.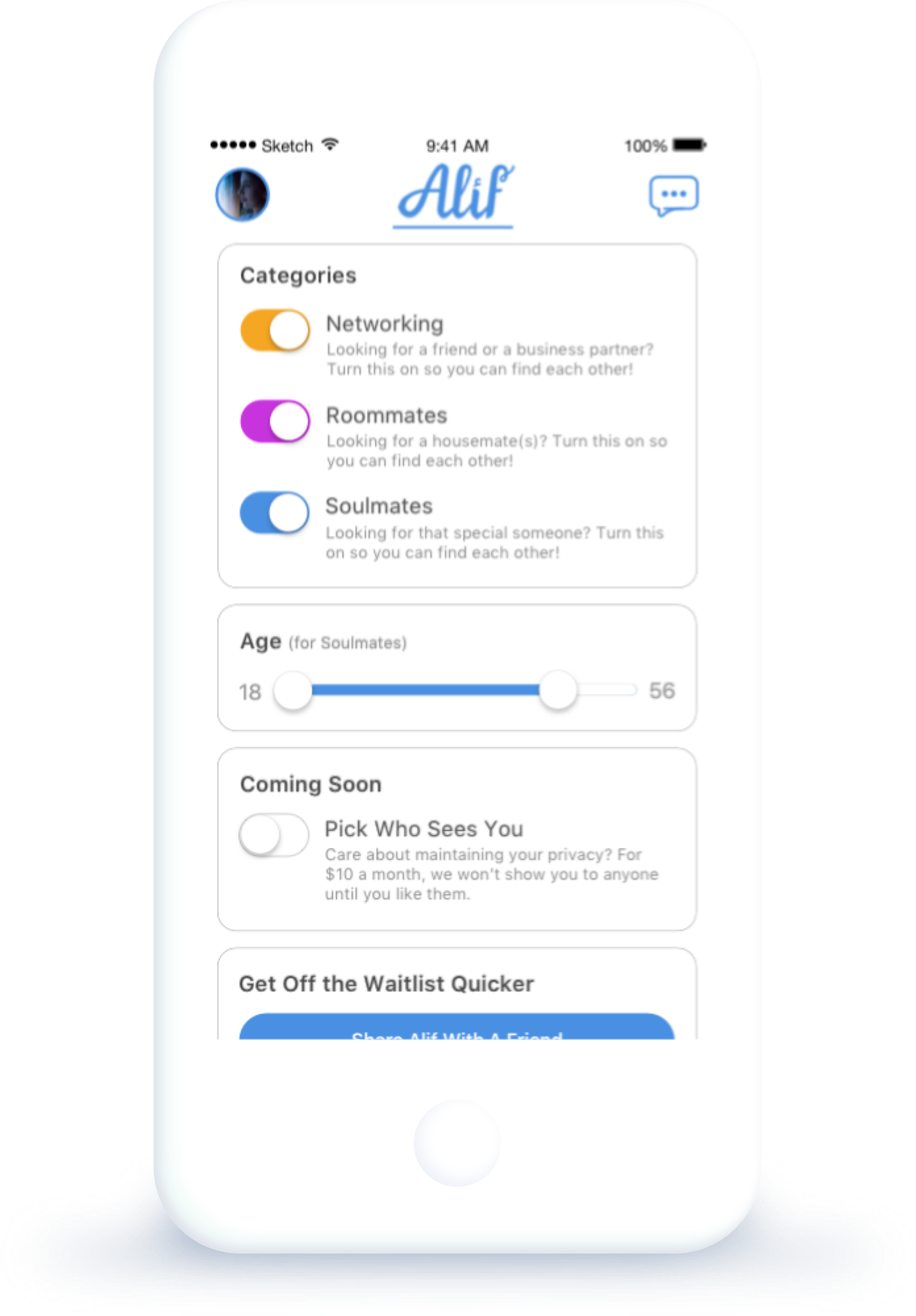 Pick Who Sees You
(Coming Soon)
Your Privacy Matters
We're building features like "Pick Who Sees You" and "Screenshot Blocking" (like when you're trying to screenshot a tv show on a streaming app) to ensure that your privacy is protected while using Alif.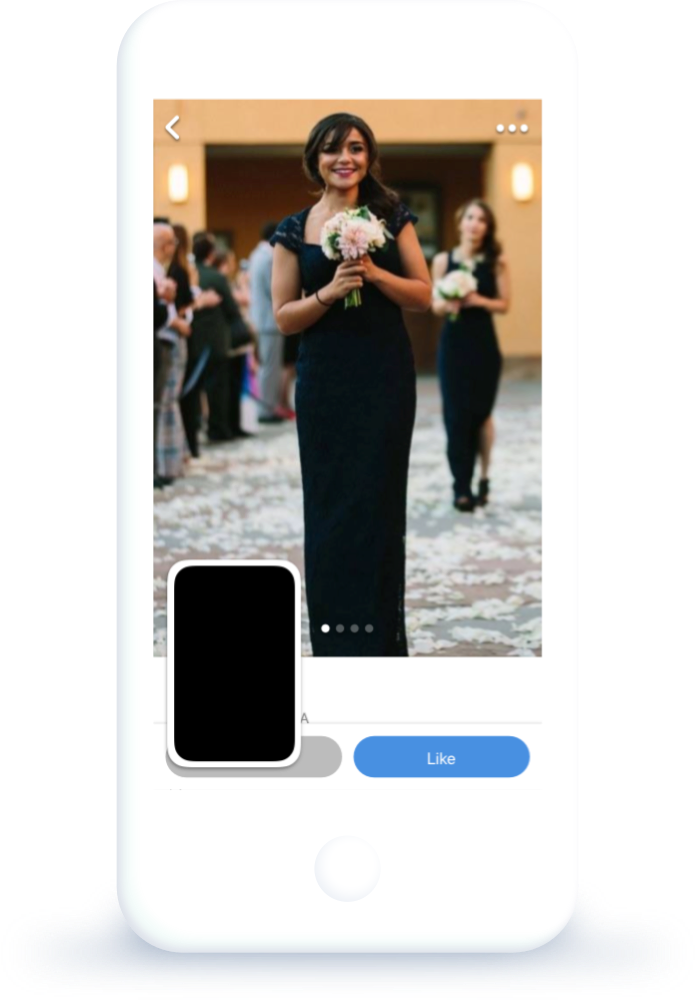 Screenshot Blocking
(Coming Soon)
Contact Us
Have feedback? have questions? We'd love to hear from you! Email us anytime at support@alifsocial.com. And when you download the app and join Alif, you'll be able to message concierge directly in the app!
Our Team
Our team is made up of designers, engineers, and lawyers who have worked at Google, Facebook, Tesla, and Apple. We came together to make Alif because we wanted to build the best experience possible for Muslims. Interested in joining us? Email us at team@alifsocial.com
Sign up for a Link to Download Alif on iOS
Android Coming Soon
Alif Terms and Conditions of Use
Peace and Blessings, y'all ! Nice to meet you. Let's break the ice with a little geography:
If you are using or accessing the website, products, services, and applications (collectively, the "App") of Alif Technologies Inc. ("Alif"), your use of or access to the App is governed by Alif's Terms of Service.
Your use of or access to the App is also be subject to your compliance with the laws, rules, and regulations of any jurisdiction from which you use of or access to the App.
Congratulations, you passed! You're on a roll, so let's keep it going here.
Alif's Terms of Service
PLEASE NOTE THAT YOUR USE OF AND ACCESS TO THE APP (AS DEFINED BELOW) IS SUBJECT TO THE FOLLOWING TERMS; IF YOU DO NOT AGREE TO ALL OF THE FOLLOWING, YOU MAY NOT USE OR ACCESS THE APP OR ANY OTHER PRODUCTS OR SERVICES IN ANY MANNER.
Welcome to the Alif Technologies Inc. ("Alif" or "our" or "we" or "us") Terms and Conditions of Use (these "Terms"). Our lawyers insist that we clarify our relationship with you so that everyone understands what to expect—makes sense to us. What you're reading is a contract between you and Alif and we want you to know your and our rights before you use or access our website, products, services, and/or applications (collectively, the "App") so that we both understand our rights and your rights. Please take a few moments to readthese Terms before enjoying the App, because we will only allow you to access, view or use the App after you click "I Accept" to indicate to us that you've read, understand, and agree to be bound by the Terms. To be fair, so will we.
1. ALIF RULES
Before you can use our fun App and access all the awesome features it has too offer, you will need to register and sign up for an account ("Account"). In order to sign up for an Account you must:
have your own Facebook account or valid email address;
be at least 18 years old; and
be legally permitted to use the App by the laws of the country in which you sign up for and access the App.
Easy as 1, 2, 3.
If you create an Account, you authorize us to access, display and use certain information from your Facebook account, if you have linked to your Alif account (e.g. profile pictures, relationship status, location and information about Facebook friends). We want to get to know you! For more information about what information we use and how we use it, please check out our Privacy Policy.
Unfortunately, we cannot allow you to use another person's Account without their permission—hands to yourselves!
You'll be a part of a wonderful virtual community on Alif, but if you ever feel the need to leave, you can delete your Account at any time by going into the delete section under your Profile and tapping the "Delete" button. Once weget your request, your Account will be deleted within a reasonable time of receipt of your request—we want to make sure it gets done correctly as our last samosa to you—but it may take a little while for Your Content (as defined below) to be completely removed from the App. We will save your profile information only to the extent that you realize you miss us and decide to restore your Account. In some cases we retain Your Content for longer, if doing so is necessary to comply with our legal obligations, resolve disputes or collect fees owed, or is otherwise required by applicable law, rule or regulation. Afterwards, we retain some information sourced from Your Content in a depersonalized or aggregated form but not in a way that would identify you personally. Although we trust you and your judgement, Alif reserves the right at our sole discretion to terminate or suspend any Account, or make use of any operational, technological, legal or other means available to enforce the Terms (including without limitation blocking specific IP addresses), at any time without liability and without given you prior notice. We hope we never have to though!
As we all learned in chemistry class: safety first! You may not access, tamper with, or use non-public areas of the App or our systems. Certain portions of the App may not be accessible if you have not registered for an Account. Besides, those parts aren't even that fun anyway.
2. TYPES OF CONTENT
There are three types of content that you will be able to access on the App:
content that you upload and provide ("Your Content");
content that other users provide ("Member Content"); and
content that Alif provides ("Our Content").
There is certain content we can't allow on Alif
We want our users to be able express themselves as freely and authentically as possible and post awesome and creative content on Alif. Some things aren't that awesome or creative though, so they don't belong on Alif. We reserve the right to protect users (like you!) from encountering content that:
contains language which could be deemed offensive or is likely to harass, upset, embarrass, alarm or annoy any other person;
is obscene, pornographic or otherwise may offend human dignity;
is abusive, insulting or threatening, or which promotes or encourages racism, sexism, discrimination, hatred or bigotry;
encourages any illegal activity including, without limitation, terrorism, inciting racial hatred, encouraging criminality, or the submission of which in itself constitutes committing a criminal offence;
is defamatory or libelous;
relates to commercial activities (including, without limitation, sales, competitions and advertising, links to other websites or premium line telephone numbers);
involves the transmission of "junk" mail or "spam";
contains any spy ware, adware, viruses, corrupt files, worm programs or other malicious code designed to interrupt, damage or limit the functionality of ordisrupt any software, hardware, telecommunications, networks, servers or other equipment, Trojan horse or any other material designed to damage, interfere with, wrongly intercept or expropriate any data or personal information whether from Alif or otherwise;
itself, or the posting of which, infringes any third party's rights (including, without limitation, intellectual property rights and privacy rights);
shows another person which was created or distributed without that person's consent.
Alif operates a zero-tolerance policy for this kind of content, and to the extent applicable, Alif complies with all valid law enforcement requests
Your Content
As Your Content is unique, you are responsible and liable for Your Content and will indemnify, defend, release, and hold us harmless from any claims made in connection with Your Content. You are what you post, so post whatever you proudly take ownership of.
You may not display any personal contact or banking information on your individual profile page whether in relation to you or any other person (for example, names, home addresses or postal codes, telephone numbers, email addresses, URLs, credit/debit card or other banking details). If you choose to reveal any personal information about yourself to other users, whether via email or otherwise, it is at your own risk. We can't predict what others might do with this information, so you agree that you are solely responsible for whatever with such information. Just be careful when you post, because you agree that Alif will be held harmless from any liability in relation to your publication of that personal information. We encourage you to use the same caution in disclosing details about yourself to third parties online as you would under any other circumstances. Alif is intended to be a community of chill users, but be careful.
As Alif is a public community, Your Content will be visible to other users of the App all around the world instantly - so make sure you are comfortable sharing Your Content before you post. As such, you agree that Your Content may be viewed by other users and any person visiting, participating in or who is sent a link to the App (e.g. individuals who receive a link to a user's profile or shared content from other Alif Users). Double check that you are posting what you intend to post. By uploading Your Content on Alif, you represent and warrant to us that you have all necessary rights and licenses to do so, and automatically grant us a non-exclusive, royalty free, perpetual, worldwide license to use Your Content in any way (including, without limitation, editing, copying, modifying, adapting, translating, reformatting, creative derivative works from, incorporating into other works, advertising, distributing and otherwise making available to the general publish such Content, whether in whole or in part and in any format or medium currently known or developed in the future). Don't post stuff that you don't have the rights to post, it's just not cool.
We may assign and/or sub-license the above license to our affiliates and successors without any further approval by you.
We have the right to remove, edit, limit or block access to any of Your Content at any time, and we have no obligation to display or review Your Content. We will try to avoid going there though!
Member Content
Other members of Alif will also share content via the App. Member Content belongs to the user who posted the content and is stored on our servers and displayed via the App at the direction of the user providing the Member Content.
Although you are welcomed and encouraged to explore Member Content on the App, you do not have any rights in relation to other users' Member Content—just like no other member has any rights in relation to your content. You may use Alif's users' personal information to the extent that your use is only for the purpose of meeting other users. Don't use other users' personal information for any other reason, it's not cool and therefore a violation of these terms! You may not use other users' information for commercial purposes, to spam, to harass, to threaten, or to take any unlawful actions. Pretty straightforward we hope! If you misuse other users' information, we reserve the right to terminate your Account — so please don't misuse any users' information! Okay, pay attention to this next part.
Member Content is subject to the terms and conditions of Sections 512(c) and/or 512(d) of the Digital Millennium Copyright Act 1998. If you have a complaint about Member Content, please see the Digital Millennium Copyright Act section below for more information.
Our Content
You may be wondering what happens to the rest of the Content on Alif. Well, it belongs to us! Any other text, content, graphics, user interfaces, trademarks, logos, sounds, artwork, and other intellectual property appearing on Alif are owned, controlled or licensed by us and are protected by copyright, trademark and other intellectual property law rights. All rights, title and interest in and to Our Content remains with us at all times.
As an Alif user, you are granted a non-exclusive, limited, personal, nontransferable, revocable, license to access and use Our Content. You can use Our Content without the right to sublicense any of it, under the following conditions:
you shall not use, sell, modify, or distribute Our Content except as permitted by the functionality of the App;
you shall not use our name in metatags, keywords and/or hidden text;
you shall not create derivative works from Our Content or commercially exploit Our Content, in whole or in part, in any way; and
you shall use Our Content for lawful purposes only. We reserve all other rights.
3. RESTRICTIONS ON THE APP
We don't like users mistreating others in the Alif community. Users should not do bad things to other users. To ensure the safety of the Alif community, you can report any abuse or complain about Member Content by contacting us and outlining the abuse and/or complaint. You can also report a user for violating these terms and mistreating you or other users directly from your profile or in the chat feature by clicking the 'Block & Report' link.
Also, we don't appreciate users doing bad things to Alif. We've worked really hard on our creation, so scraping or replicating any part of the App without our prior consent is expressly prohibited and not very nice. This includes by any means (automated or otherwise) other than through our currently available, published interfaces - unless you have been specifically allowed to do so in a separate agreement with us. Please don't mistreat us, it hurts our e-feelings.
4. PRIVACY
For information about how Alif collects, uses, and shares your personal data, please check out our Privacy Policy– we strongly recommend it! By using Alif, you agree that we can use such data in accordance with our Privacy Policy
5. THIRD PARTY STORES; PREMIUM SERVICES; IN-APP PURCHASES
The App may be dependent on and/or interoperate with third-party owned and/or operated platforms and services, e.g., Apple (iTunes, etc.), Google, Facebook, Twitter, etc. (each, a "Third Party Platform") and may require that you be a registered member of such Third Party Platforms and provide certain account credentials and other information in order to access the App. By using the App, you agree to comply with any applicable terms, conditions or requirements promulgated by any provider of a Third Party Platform (e.g., Facebook's Terms of Use, iTunes Store Terms of Use, etc.).
We may make certain products and/or services available to users of the App in consideration of a subscription fee or other fees ("Premium Services"), including the ability to purchase products, services and enhancements, such as the ability to extend your matches ("In-App Products"). If you choose to use Premium Services or make In-App Products, you acknowledge and agree that additional terms may apply to your use of, access to and purchase of such Premium Services and In-App Products, and such additional terms are incorporated herein by reference. You may purchase Premium Services and InApp Products through the following payment methods (each, a "Premium Payment Method"): (a) making a purchase through the Apple App Store ®, Google Play or other mobile or web application platforms or storefronts authorized by us (each, a "Third Party Store"), (b) paying with your credit card, debit card, or PayPal account, which will be processed by a third party processor, or (c) adding charges to your mobile carrier bill and remitting payment directly to your carrier. Once you have requested a Premium Service or In-App Product, you authorize us to charge your chosen Premium Payment Method and your payment is non-refundable unless otherwise stated. If payment is not received by us from your chosen Premium Payment Method, you agree to promptly pay all amounts due upon demand by us. If you want to cancel or change your Premium Payment Method at any time, you can do so either via the payment settings option under your profile or by contacting your mobile service provider. If your chosen Premium Payment Method is via your mobile service provider, then please check with them about their payment terms, as their payment terms will govern how payments to Alif are made as well as how such payments may be changed or cancelled. Your subscription to Alif's Premium Services will automatically renew until you decide to cancel in accordance with such terms. In the event of a conflict between a Third Party Store's terms and conditions and these Terms, the terms and conditions of the Third Party Store or service provider shall govern and control, so make sure you've reviewed those too! We are not responsible and have no liability whatsoever for goods or services you obtain through the Third Party Store, our third party service providers or other web sites or web pages. We encourage you to make whatever investigation you feel necessary or appropriate before proceeding with any online transaction with any of these third parties.
If you choose to make an In-App Purchase, you will be prompted to enter details for your account with the Third Party Store you are using (e.g., Android, Apple, etc.) ("your Mobile Platform Account"), and your Mobile Platform Account will be charged for the Premium Service and/or In-App Product in accordance with the terms disclosed to you at the time of purchase, as well as the general terms applicable to all other in-app purchases made through your Mobile Platform Account (e.g., Android, Apple, etc.). Premium Services and In-App Products may include one-time purchases as well as monthly subscriptions (e.g., a one-month subscription, three-month subscription, six-month subscription, etc.) to additional account features. At the end of the free trial period (if applicable), you will be charged the price of the subscription and will continue to be charged until you cancel your subscription. Please note that for Premium Services and In-App Products made on a subscription basis, your subscription will automatically renew for the same subscription period as you initially purchased (e.g., if you made an In-App Product for a sixmonth subscription, your subscription will be automatically renewed for an additional six-months). To avoid any charges for additional periods, you must cancel before the end of the free trial period, subscription period or renewal, as applicable, in accordance with the terms and conditions of your Mobile Platform Account and the terms and conditions of any applicable Third Party Store. The pricing may vary due to a number of factors, such as (but not limited to) promotional offers, loyalty bonuses and other discounts that might apply to you.
Please note that for Premium Services and In-App Products you will be billed continuously for the subscription or service until you cancel in accordance with your Mobile Platform Account's or your Premium Payment Method's terms. In all cases, we are not responsible and have no liability whatsoever for any payment processing errors (including card processing, identity verification, analysis and regulatory compliance) or fees or other service-related issues, including those issues that may arise from inaccurate account information, or products or goods you obtain through your Mobile Platform Account or Third Party Stores. Further, Alif does not guarantee that product descriptions or other content and products will be available, accurate, complete, reliable, current or error-free. Descriptions and images of, and references to, products or services (including Premium Services or In-App Products) do not imply our or any of our affiliates' endorsement of such products or services. Moreover, Alif and its third party operational service providers reserve the right, with or without prior notice, for any or no reason, to change product descriptions, images, and references; to limit the available quantity of any product; to honor, or impose conditions on the honoring of, any coupon, coupon code, promotional code or other similar promotions; to bar any user from conducting any or all transaction(s); and/or to refuse to provide any user with any product. Further, if we terminate your use of or registration to the App because you have breached these Terms, you shall not be entitled to a refund of any unused portion of any fees, payments or other consideration. We encourage you to review the terms and conditions of the applicable third party payment processors, Third Party Store or Mobile Platform Account before you make any In-App Products or Premium Service purchases.
6. PUSH NOTIFICATIONS; LOCATION-BASED FEATURES
We may provide you with emails, text messages, push notifications, alerts and other messages related to the App and/or Alif's services, such as enhancements, offers, products, events, and other promotions. After downloading the App, you will be asked to accept or deny push notifications /alerts. If you deny, you will not receive any push notifications/alerts. If you accept, push notifications/alerts will be automatically sent to you. If you no longer wish to receive push notifications/alerts from the App, you may opt out by changing your notification settings on your mobile device. With respect to other types of messaging or communications, such as emails, text messages, etc., you can unsubscribe or opt out by either following the specific instructions included in such communications, or messaging us on the App. We hope you'll allow us to keep you in the loop, but let us know if you'd like to adjust the number of communications you receive from Alif —we'll do our best to accommodate you!
The App may allow access to or make available opportunities for you to view certain content and receive other products, services and/or other materials based on your location. To make these opportunities available to you, the App will determine your location using one or more reference points, such as GPS, Bluetooth and/or software within your mobile device. If you have set your mobile device to disable GPS, Bluetooth or other location determining software or do not authorize the App to access your location data, you will not be able to access such location-specific content, products, services and materials. For more about how the App uses and retains your information, please read the Privacy Policy.
7. DISCLAIMER
We're not yelling at you, but this next part is VERY important!
THE APP, SITE, OUR CONTENT, AND MEMBER CONTENT ARE ALL PROVIDED TO YOU "AS IS" AND "AS AVAILABLE" WITHOUT WARRANTY OF ANY KIND, EITHER EXPRESS OR IMPLIED, INCLUDING BUT NOT LIMITED TO, FITNESS FOR A PARTICULAR PURPOSE, TITLE, OR NON-INFRINGEMENT.
SHOULD APPLICABLE LAW NOT PERMIT THE FOREGOING EXCLUSION OF EXPRESS OR IMPLIED WARRANTIES, THEN WE GRANT THE MINIMUM EXPRESS OR IMPLIED WARRANTY REQUIRED BY APPLICABLE LAW. NO ADVICE OR INFORMATION, WHETHER ORAL OR WRITTEN, SHALL CREATE ANY WARRANTY, REPRESENTATION OR GUARANTEE NOT EXPRESSLY STATED IN THIS SECTION.
ADDITIONALLY, WE DO NOT MAKE ANY WARRANTIES THAT THE APP OR SITE WILL BE UNINTERRUPTED, SECURE OR ERROR FREE OR THAT YOUR USE OF THE APP OR SITE WILL MEET YOUR EXPECTATIONS, OR THAT THE APP, SITE, OUR CONTENT, ANY MEMBER CONTENT, OR ANY PORTION THEREOF, IS CORRECT, ACCURATE, OR RELIABLE. YOUR USE OF THE APP OR SITE IS AT YOUR OWN RISK. YOU ARE SOLELY RESPONSIBLE FOR YOUR INTERACTIONS WITH OTHER MEMBERS. ALIF IS NOT RESPONSIBLE FOR THE CONDUCT OF ANY USER. ALIF DOES NOT CONDUCT CRIMINAL BACKGROUND CHECKS ON ITS MEMBERS.
NEITHER US NOR ANY OWNER WILL BE LIABLE FOR ANY DAMAGES, DIRECT, INDIRECT, INCIDENTAL, CONSEQUENTIAL, SPECIAL, OR PUNITIVE, INCLUDING, WITHOUT LIMITATION, LOSS OF DATA, INCOME, PROFIT OR GOODWILL, LOSS OF OR DAMAGE TO PROPERTY AND CLAIMS OF THIRD PARTIES ARISING OUT OF YOUR ACCESS TO OR USE OF THE APP, SITE, OUR CONTENT, OR ANY MEMBER CONTENT, HOWEVER CAUSED, WHETHER BASED ON BREACH OF CONTRACT, TORT (INCLUDING NEGLIGENCE), PROPRIETARY RIGHTS INFRINGEMENT, PRODUCT LIABILITY OR OTHERWISE.
THE FOREGOING SHALL APPLY EVEN IF WE WERE ADVISED OF THE POSSIBILITY OF SUCH DAMAGES. IF YOU BECOME DISSATISFIED IN ANY WAY WITH THE APP OR SITE, YOUR SOLE AND EXCLUSIVE REMEDY IS TO STOP YOUR USE OF THE APP AND SITE
YOU HEREBY WAIVE ANY AND ALL CLAIMS ARISING OUT OF YOUR USE OF THE APP OR SITE. BECAUSE SOME STATES DO NOT ALLOW THE DISCLAIMER OF IMPLIED WARRANTIES OR THE EXCLUSION OR LIMITATION OF CERTAIN TYPES OF DAMAGES, THESE PROVISIONS MAY NOT APPLY TO YOU. IF ANY PORTION OF THIS LIMITATION ON LIABILITY IS FOUND TO BE INVALID OR UNENFORCEABLE FOR ANY REASON, THEN OUR AGGREGATE LIABILITY SHALL NOT EXCEED ONE HUNDRED DOLLARS ($100)
THE LIMITATION OF LIABILITY HEREIN IS A FUNDAMENTAL ELEMENT OF THE BASIS OF THE BARGAIN AND REFLECTS A FAIR ALLOCATION OF RISK. THE APP AND SITE WOULD NOT BE PROVIDED WITHOUT SUCH LIMITATIONS AND YOU AGREE THAT THE LIMITATIONS AND EXCLUSIONS OF LIABILITY, DISCLAIMERS AND EXCLUSIVE REMEDIES SPECIFIED HEREIN WILL SURVIVE EVEN IF FOUND TO HAVE FAILED IN THEIR ESSENTIAL PURPOSE.
8. INDEMNITY
All the actions you make and information you post on the App remain your responsibility. Therefore, you agree to indemnify, defend, release, and hold us, and our partners, licensors, affiliates, contractors, officers, directors, employees, representatives and agents, harmless, from and against any third party claims, damages (actual and/or consequential), actions, proceedings, demands, losses, liabilities, costs and expenses (including reasonable legal fees) suffered or reasonably incurred by us arising as a result of, or in connection with:
any negligent acts, omissions or willful misconduct by you;
your access to and use of the App and any actions or incident resulting from your access to or use of the App;
the uploading or submission of Content to the App by you;
any breach of these Terms by you; and/or
your violation of any law or of any rights of any third party
We retain the exclusive right to settle, compromise and pay any and all claims or causes of action which are brought against us without your prior consent. If we ask, you agree to co-operate fully and reasonably as required by us in the defense of any relevant claim.
9. DIGITAL MILLENNIUM COPYRIGHT ACT
Alif has adopted the following policy towards copyright infringement in accordance with the Digital Millennium Copyright Act (the "DMCA"). If you believe any Member Content or Our Content infringes upon your intellectual property rights, please submit a notification alleging such infringement ("DMCA Takedown Notice") including the following:
A physical or electronic signature of a person authorized to act on behalf of the owner of an exclusive right that is allegedly infringed;
Identification of the copyrighted work claimed to have been infringed, or, if multiple copyrighted works at a single online site are covered by a single notification, a representative list of such works;
Identification of the material claimed to be infringing or to be the subject of infringing activity and that is to be removed or access disabled and information reasonably sufficient to permit the service provider to locate the material;
Information reasonably sufficient to permit the service provider to contact you, such as an address, telephone number, and, if available, an electronic mail;
A statement that you have a good faith belief that use of the material in the manner complained of is not authorized by the copyright owner, its agent, or the law; and
A statement that, under penalty of perjury, the information in the notification is accurate and you are authorized to act on behalf of the owner of the exclusive right that is allegedly infringed.
Any DMCA Takedown Notices should be sent to: support@alifsocial.com
10. THIRD PARTY APP STORE
The following additional terms and conditions apply to you if you download the App from a Third Party Store. To the extent that the other terms and conditions of these Terms are less restrictive than, or otherwise conflict with, the terms and conditions of this Section, the more restrictive or conflicting terms and conditions in this Section will apply, but solely with respect to the App and the Third Party Store. You acknowledge and agree that:
These Terms are concluded solely between you and Alif and not with the providers of the Third Party Store, and Alif (and not the Third Party Store providers) is solely responsible for the App and the content thereof. To the extent that these Terms provide for usage rules for the App which are less restrictive or in conflict with the applicable terms of service of the Third Party Store from which you obtain the App, the more restrictive or conflicting term of the Third Party Store will take precedence and will apply.
The Third Party Store provider has no obligation whatsoever to provide any maintenance and support services with respect to the App. Alif is solely responsible for any product warranties, whether express or implied by law, to the extent not effectively disclaimed. The Third Party Store provider will have no warranty obligation whatsoever with respect to the App, and any other claims, losses, liabilities, damages, costs or expenses attributable to any failure to conform to any warranty will be the sole responsibility of Alif.
Alif, not the Third Party Store provider, is responsible for addressing any claims you or any third party may have relating to the App or your possession and/or use of the App, including, but not limited to: (i) product liability claims; (ii) any claim that the App fails to conform to any applicable legal or regulatory requirement; (iii) claims arising under consumer protection or similar legislation; and/or (iv) intellectual property infringement claims.
The Third Party Store provider and its subsidiaries are third party beneficiaries of this Agreement, and, upon your acceptance of these Terms, the Third Party Store provider from whom you obtained the App will have the right (and will be deemed to have accepted the right) to enforce these Terms against you as a third party beneficiary thereof.
11. MISCELLANEOUS
You're probably wondering when we're done here, and we would be too! We're almost done, we promise—this is the homestretch.
These Terms, which we may amend from time to time, constitute the entire agreement between you and Alif. The Terms supersede all previous agreements, representations and arrangements between us (written or oral). Nothing in this clause shall limit or exclude any liability for fraudulent misrepresentation.
Alif has taken reasonable steps to ensure the currency, availability, correctness and completeness of the information contained on Alif and provides that information on an "as is", "as available" basis. Alif does not give or make any warranty or representation of any kind about the information contained on Alif, whether express or implied. Use of Alif and the materials available on it is at your sole risk. Alif cannot be held responsible for any loss arising from the transmission, use of data, or inaccuracies in Your Content, Member Content, or Our Content.
You are responsible for taking all necessary precautions to ensure that any material you may obtain from Alif is free of viruses or other harmful components. You accept that Alif will not be provided uninterrupted or error free, that defects may not be corrected or that Alif, or the server that makes it available, are free of viruses or bugs, spyware, Trojan horse or any similar malicious software. Alif is not responsible for any damage to your computer hardware, computer software, or other equipment or technology including, but without limitation damage from any security breach or from any virus, bugs, tampering, fraud, error, omission, interruption, defect, delay in operation or transmission, computer line or network failure or any other technical or other malfunction.
We know our Terms are fun and exciting, but we may have to make then more fun and awesome from time to time:
As Alif grows, we might have to make changes to these Terms so we reserve the right to modify, amend or change the Terms at any time (a "Change"). If we do this then the Changes will be posted on this page and we will indicate the Effective Date of the updates at the bottom of the Terms. In certain circumstances, we may send an email to you notifying you of a Change. You should regularly check this page for notice of any Changes – we want our users to be as informed as possible.
Your continued use of Alif following any Change constitutes your acceptance of the Change and you will be legally bound by the new updated Terms. If you do not accept any Changes to the Terms, you will stop using Alif immediately (but don't forget all the cool people you've met!).
Some more fun and important legal stuff:
If, for any reason, any of the Terms are declared illegal, invalid or otherwise unenforceable by a court of a competent jurisdiction, then to the extent that term is illegal, invalid or unenforceable, it shall be severed and deleted from the Terms and the remainder of the Terms shall survive, remain in full force and effect and continue to be binding and enforceable.
No failure or delay in exercising any right, power or privilege under the Terms shall operate as a waiver of such right or acceptance of any variation of the Terms and nor shall any single or partial exercise by either party of any right, power or privilege preclude any further exercise of the right or the exercise of any other right, power or privilege.
You represent and warrant that:
you are not located in a country that is subject to a U.S. Government embargo, or that has been designated by the U.S. Government as a "terrorist supporting" country; and
you are not listed on any U.S. Government list of prohibited or restricted parties.
By using the App, you agree and acknowledge that Alif is a global app operating through servers located in a number of countries around the world, including the United States. If you live in a country with data protection laws, the storage of your personal data may not provide you with the same protections as you enjoy in your country of residence. By submitting your personal information, or by choosing to upgrade the services you use, or by making use of the applications available on Alif, you agree to the transfer of your personal information to, and storage and processing of your personal information in, any such countries and destinations.
The App may contain links to third-party websites or resources. In such cases, you acknowledge and agree that we are not responsible or liable for:
the availability or accuracy of such websites or resources; or
the content, products, or services on or available from such websites or resources.
Links to such websites or resources do not imply any endorsement by Alif. You acknowledge sole responsibility for and assume all risk arising from your use of any such websites or resources. Framing, in-line linking or other methods of association with the App are expressly prohibited without first obtaining our prior written approval.
These Terms, and any rights and licenses granted hereunder, may not be transferred or assigned by you, but may be assigned by us without restriction.
Okay, one last thing!
12. ABOUT US
Your access to the App, Our Content, and any Member Content, as well as these Terms are governed and interpreted by the laws of the State of California, other than such laws, rules, regulations and case law that would result in the application of the laws of a jurisdiction other than the State of California. By using the App, you are consenting to the exclusive jurisdiction of the courts of the United States, the State of California, and the county of Santa Clara. You agree that such courts shall have in personam jurisdiction over you, are the proper venue for any court proceeding, and you waive any objection based on inconvenient forum. You agree that you will not file or participate in a class action against us. In the event there is a discrepancy between this English language version and any translated copies of the Terms, the English version shall prevail.
Alif is a registered corporation in the United States in Delaware.
Effective date
The Terms were last updated on: May 15, 2018.
Alif Privacy Policy
Hey everyone, this is the Alif Technologies, Inc. ("Alif") Privacy Policy (the "Policy" or the "Privacy Policy")! It explains how we collect, store, protect, and share your information, and with whom we share it. We strongly suggest you read it and our Terms and Conditions of Use ("Terms of Service") to get a firm handle on how your information is collected, used, and shared—we are all about transparency and openness. When you become a member of the Alif community and/or by using or accessing the Alif website, products, services, and applications (collectively, the "App"), we collect some information about you. In addition, you may choose to use the App to share information with other Alif users, including your friends and contacts ("Users"). We may also need to share your information in times and manners that are explained in this Policy.
By downloading and installing our App, you agree that we can collect, transfer, store, disclose and use your information as described in this Policy. Alif is a global app, and your information will be sent to and used in the United States regardless of the country you reside in, and by downloading our App you consent to this transfer. So please read through the rest of this policy very carefully!
We know this information can be a lot, so if you have any questions or comments about this Policy, please feel free to contact us at .
1. COLLECTION OF INFORMATION.
Registration Information
When you download the App and create an account ("Account"), we may collect certain information ("Registration Information") about you, such as:
Name;
Username;
Email address;
Mobile number;
Gender;
Date of birth;
Sexual preference;
Photographs;
Location data; and
Login information and friend lists for social media accounts that you connect to your Alif Account (this could include, for example, your Facebook and Instagram accounts ("Social Media Accounts")).
You will also be required to create a username and password in connection with the registration of your Account. Once you register, you will be able to review and change this information at any time, no sweat!
This information helps to enhance your experience on the App and verify our Users (we like to make sure you're not harassed by any bots in the Alif community—bots not welcome!). Registration Information such as your name and username may be visible to the public on your profile page.
Additional Information
We may ask you to provide your full name and address. You agree that such details may be shared with third parties for purposes relating to, for example, any of our loyalty programs, sending gifts or delivery of merchandise.
We may also collect additional information in connection with your use of Alif, such as comments and posts, or if you use our super cool electronic messaging function.
If you contact our Customer Support team, we will receive your email address, and may track your IP address as well as the information you send to us to help resolve your query. We will keep records of our communications with you, including any complaints that we receive from you about other Users (and from other Users about you).
We recommend and encourage you (and all our users) to think carefully about the information you disclose about yourself. We also do not recommend that you put email addresses, URLs, instant messaging details, phone numbers, full names or addresses, credit card details, national identity numbers, drivers' license details and other sensitive information on your profile which could be abused or misused by strangers—avoid stranger danger!
Please be careful about posting sensitive details about yourself on your profile such as your personal beliefs and health details. While you may voluntarily provide this information to us when you create your profile, including your sexual preferences and ethnic background, there is no requirement to do so—only share what you are comfortable sharing. Please remember that photographs that you post on Alif may reveal information about yourself as well. Where you do upload and choose to tell us sensitive information about yourself, you are explicitly consenting to our processing of your information and making this public to other users, unless otherwise stated.
When you post information about yourself or use the messaging function, the amount of personal information you share is at your own risk. Please see Section 4 below for more information on who can access what you post on Alif. If you post anything that is inconsistent with our Terms of Service, we reserve the right to terminate your Account, though we really don't want to have to do this ever so please be respectful of others and play by the rules that protect everyone in the Alif community—including you!
If you provide a cell phone number to receive SMS messages from Alif, you expressly consent to receiving SMS messages from us promoting our services and products. Although there is no fee associated with the service, your carrier may charge you for each message you receive. You agree that we are not responsible for such charges. If you do not wish to continue to receive any messages via mobile device, you may opt-out at any time by texting "STOP" in response to a marketing SMS message—we'll stop right away, but we will miss you.
Data Storage
By using the App, you agree and acknowledge that Alif is a global app operating through servers located in a number of countries around the world, including the United States. If you live in a country with data protection laws, the storage of your personal data may not provide you with the same protections as you enjoy in your country of residence. By submitting your personal information, or by choosing to upgrade the services you use, or by making use of the applications available on Alif, you agree to the transfer of your personal information to, and storage and processing of your personal information in, any such countries and destinations.
Geolocation Information
If you turn these features on, we may collect your device's geolocation data and save your device's coordinates to offer certain features to you. We may also use your device's geolocation information to personalize the App and make it easier for you to interact with other Users. You can control your location information settings in your Account settings and switch them off if you really want to (stealth mode!). Even if you have disabled location services, we may still determine your city, state, and country location based on your IP address (but not your exact location)—a little mystery never hurt anyone.
Log and Usage Data
Our servers automatically record information ("Log and Usage Data") created by your use of the App, which again helps us to improve our service. Log and Usage Data may include information such as your IP address, browser type, the referring domain, pages visited, access times, your mobile carrier, and search terms. Other actions, such as interactions with Alif and advertisements, may also be included in Log and Usage Data.
Device Information
We may collect information about your device when you use the App including the unique device identifier, device model, operating system, and MAC address. In addition, if you permit us to do so, the App may access your device's address book and contact lists in order to offer you certain features of our App.
Links
We may keep track of how you interact with links available on Alif including third party services and clients by redirecting clicks or through other means. We may share aggregate click statistics such as how many times a particular link was clicked on.
Cookies
These are not your grandmother's cookies! These cookies are small data files that are transferred to your computer's hard disk. Like many websites, we use "cookie" technology to collect additional website usage data and to improve Alif, but we do not require cookies for many parts of our App such as searching and looking at public User profiles or lists.
The cookies we collect enable us to learn how people interact with Alif, which in turn helps us make a better product for you! Cookies store information about your website visits and can recognise you and your preferences each time you visit Alif. They help us to provide a better service to you!
If for any reason you decide that you do not want all of your Alif activities to be stored you may set your browser and mobile settings to block cookies and local storage devices, but please remember that if you do so, you may not be able to access all of the features Alif offers (noooooo!).
We use the following types of cookies:
Cookie Functions
Cookie Purposes
Analytics and research
We use Google Analytics to collect information about how visitors use the App. We use the information to compile reports and to help us improve the App. The cookies collect information in an anonymous form, including the number of visitors to the App, where visitors have come from and the pages they visited. For more information about Google's Privacy Policy, please visit http://www.google.com/intl/en/policies/.
Authentication
These cookies help us identify our Users so that when you're logged in you can enjoy our offerings, experiences and various features, such as uploading photographs and chatting. You can even localise your experience, such as when you've requested to view the App in your local language or when you ask Alif to 'remember me'. These cookies also help us to remember who invited you to join Alif. We also use cookies and other web technologies, such as CAPTCHAs, to help keep Alif and our members safe and secure.
Security and site integrity
We may use persistent cookies, which will help us to ensure we have identified the same device is logging into the correct account. These cookies help us combat the bad guys - they help with our anti-spam measures and may help us to prevent phishers, scammers, unauthorised log-in attempts to your Account and accessing any hacked accounts.
Site features and services
These cookies and local storage devices provide functionality such as uploading photographs, chat, instant messaging, and using your Account settings. They also help provide experiences, such as links to other social media sites, social plugins and video content, including making it easier for you to share content between Alif and your other favorite social networks. In some cases, we may allow a third party to place cookies or save data to your local storage devices on your mobile device – this is where Alif's Privacy Policy ends and theirs begin. The third party who places cookies on your device is responsible for how they process their data so you should read their privacy policies and make sure you're okay with them before you start sharing. Examples of such policies are available at the following links: Twitter: https://twitter.com/privacy

Facebook: https://www.facebook.com/policy.php

YouTube: http://www.google.co.uk/intl/en/policies/privacy/

AddThis: http://www.addthis.com/privacy

Performance
We need to use certain cookies and save data to your local storage devices to ensure our members have the best possible experience. They assist with your navigation of our App, ensuring pages load quickly and respond promptly to your requests – no one likes snail pace technology!
Our use of cookies and local storage devices, including the specific cookie names, may change over time, but will generally fall into the above categories. Please visit this page regularly so that you are aware of any changes as our cookie usage is subject to change at any time.
If you would like to know more about these fat-free cookies, including flash cookies / local storage devices, the following websites provide useful information:
2. USE OF INFORMATION.
Our main goal is to ensure your experience on Alif is an enjoyable one and you only enjoy use of Alif's platform to the fullest extent! In order to deliver an enjoyable experience to you, we may use your registration information provided when you create an Account and use the App, and other information, to:
offer you our services and features;
contact you with information about the App (e.g., updates and new offerings);
personalize the App and the content we deliver to you;
conduct research and analytics about how you use and interact with the App;
resolve disputes between you and other Users; and
investigate fraud, protect our legal rights, and to enforce our Terms of Service.
3. DISCLOSURE OF INFORMATION.
Our policy is to not disclose your Registration Information, except in the limited circumstances described here:
Your Consent – If you consent, we may share or disclose your Registration Information, such as when you use a third party web client or application to access your Account.
Service Providers - We engage certain trusted third parties to perform functions and provide services to us. We may share your Registration Information with these third parties, but only for the purposes of performing these functions and providing such services.
Law and Harm - As we mentioned in the Terms of Service, we think it is very important that all Alif users behave whilst using the App. We will cooperate with all third parties to enforce their intellectual property or other rights. We will also cooperate with law enforcement enquiries from within or outside your country of residence. This may include preserving or disclosing any of your information, including your Registration Information, if we believe in good faith that it is necessary to comply with a law or regulation, or when we believe that disclosure is necessary to comply with a judicial proceeding, court order, or legal request; to protect the safety of any person; to address fraud, security or technical issues; or to protect our rights or property or those of third parties. In such cases we may raise or waive any legal objection or right available to us.
Business Transfers - In the event that Alif or any of our affiliates are involved in a bankruptcy, merger, acquisition, reorganization or sale of assets, your information may be sold or transferred as part of that transaction.
Non-Private or Non-Personal Information - We may share or disclose your non-private, aggregated or otherwise non-personal information with third parties for industry analysis and demographic profiling and to deliver targeted advertising about other products and services and for marketing purposes. You may opt-out of receiving marketing messages by using the opt-out mechanisms and links provided in each email.
4. WHAT OTHERS MAY SEE ABOUT YOU.
We think our Alif users are awesome (duh!), and we want you to share how awesome you are with the world, so we have built certain features to enable this. Our App is designed to make it easier for you to connect with other Users and to interact with them. If you register or login to the App using your Facebook account, you are authorizing us to access certain Facebook account information, including information you make available via Facebook, your friends list, relationship status, current location and those friends you have in common with other Alif users. You also understand that your Alif profile and other information you make available via the App, including information you provide directly or indirectly through Facebook (i.e., your Facebook photos, your name, age, approximate location, friends you have in common with other Alif'ers and other profile information), may be viewed and shared by Alif users with individuals who may or may not be Users or via third party applications in such Alif users' discretion. For example, a User may recommend you as a match to his or her Facebook friends by sharing your picture, regardless of whether such friend(s) is also a User of the App. You might share information like the photos and messages you send or upload and any metadata provided with those messages, along with any comments or information you provide in connection with your photos.
When using Alif, you should assume that anything you post or submit on the App may be publicly-viewable and accessible, both by Users of the App and non-Users of the App. Before you post this information, be aware that this content may be searchable by search engines – they're everywhere you guys! We want our Alif users to be careful about posting information that will eventually be made public in different places.
5. RESIDENTS OF THE EUROPEAN UNION
If you are a resident of the European Union ("EU"), United Kingdom, Lichtenstein, Norway, or Iceland, you may have additional rights under the EU General Data Protection Regulation (the "GDPR") with respect to your Personal Data, as outlined below.
For this section, we use the terms "Personal Data" and "processing" as they are defined in the GDPR, but "Personal Data" generally means information that can be used to individually identify a person, and "processing" generally covers actions that can be performed in connection with data such as collection, use, storage and disclosure. Alif will be the controller of your Personal Data processed in connection with the App.
If there are any conflicts between this section and any other provision of this Privacy Policy, the policy or portion that is more protective of Personal Data shall control to the extent of such conflict. If you have any questions about this section or whether any of the following applies to you, please contact us at [support@alifsocial.com].
What Personal Data Do We Collect From You? We collect Personal Data about you when you provide such information directly to us, when third parties such as our business partners or service providers provide us with Personal Data about you, or when Personal Data about you is automatically collected in connection with your use of our App.
Information we collect directly from you: We receive Personal Data directly from you when you provide us with such Personal Data, including without limitation the following:
First and last name
Email address
Gender
Birthday
Location
User content, for example, photos you upload to your Account, answers to questions on your Account, the categories you're searching for, age preferences, your actions on other third party service provider profiles (e.g. liking, passing, etc.) (which can include Personal Data if you include Personal Data in such content).
Information we receive from third party sources: Some third parties such as our business partners and service providers provide us with Personal Data about you, such as the following:
Account information for third party services: If you interact with a third party service when using our App, such as if you use a third party service to log-in to our App (e.g., Facebook Connect or Twitter OAuth), or if you share content from our App through a third party social media service, the third party service will send us information about you, such as information from your public profile, if the third party service and your account settings allow such sharing. The information we receive will depend on the policies and your account settings with the third party service.
Information we automatically collect when you use our App: Some Personal Data is automatically collected when you use our App, such as the following:
IP address
Device identifiers
Web browser information
Page view statistics
Browsing history
Usage information
Location information (e.g. IP address, zip code)
Log data (e.g. access times, hardware and software information)
How Do We Use Your Personal Data? We process Personal Data to operate, improve, understand and personalize our App. For example, we use Personal Data to:
Create and manage user profiles
Communicate with you about the App
Contact you about service announcements, updates or offers
Provide support and assistance for the App
Personalize the content/other accounts and profiles we show to you
Meet contract or legal obligations
Respond to user inquiries
Fulfill user requests
Comply with our legal or contractual obligations
Resolve disputes
Protect against or deter fraudulent, illegal or harmful actions
Enforce our Terms of Service
We will only process your Personal Data if we have a lawful basis for doing so. Lawful bases for processing include consent, contractual necessity and our "legitimate interests" or the legitimate interest of others, as further described below.
Contractual Necessity: We process the following categories of Personal Data as a matter of "contractual necessity", meaning that we need to process the data to perform under our Terms of Service with you, which enables us to provide you with the App. When we process data due to contractual necessity, failure to provide such Personal Data will result in your inability to use some or all portions of the App that require such data.
Legitimate Interest: We process the following categories of Personal Data when we believe it furthers the legitimate interest of us or third parties. Examples of these legitimate interests include: operation and improvement of our business, products and services and marketing of our products and services.
Provision of customer support
Protection from fraud or security threats
Compliance with legal obligations
Completion of corporate transactions
Consent: In some cases, we process Personal Data based on the consent you expressly grant to us at the time we collect such data. When we process Personal Data based on your consent, it will be expressly indicated to you at the point and time of collection.
Other Processing Grounds: From time to time we may also need to process Personal Data to comply with a legal obligation, if it is necessary to protect the vital interests of you or other data subjects, or if it is necessary for a task carried out in the public interest.
How and With Whom Do We Share Your Data? We share Personal Data with vendors, third party service providers and agents who work on our behalf and provide us with services related to the purposes described in this Privacy Policy or our Terms of Service. These parties include:
Contract personnel
Hosting service providers
We also share Personal Data when necessary to complete a transaction initiated or authorized by you or provide you with a product or service you have requested. In addition to those set forth above, these parties also include:
Other users (where you post information to effect a transaction initiated or authorized by you through the App)
Social media services (if you interact with them through your use of the App)
Third party business partners who you access through the App
Other parties authorized by you
Comply with applicable law or respond to valid legal process, including from law enforcement or other government agencies
Protect us, our business or our users, for example to enforce our terms of service, prevent spam or other unwanted communications and investigate or protect against fraud
Maintain the security of our products and services
We also share information with third parties when you give us consent to do so.
Furthermore, if we choose to buy or sell assets, user information is typically one of the transferred business assets. Moreover, if we, or substantially all of our assets, were acquired, or if we go out of business or enter bankruptcy, user information would be one of the assets that is transferred or acquired by a third party, and we would share Personal Data with the party that is acquiring our assets. You acknowledge that such transfers may occur, and that any acquirer of us or our assets may continue to use your Personal Information as set forth in this policy
How Long Do We Retain Your Personal Data? We retain Personal Data about you for [UPDATE AND ALIGN WITH TERMS ON THIS SAME TOPIC]. In some cases we retain Personal Data for longer, if doing so is necessary to comply with our legal obligations, resolve disputes or collect fees owed, or is otherwise permitted or required by applicable law, rule or regulation. Afterwards, we retain some information in a depersonalized or aggregated form but not in a way that would identify you personally.
What Security Measures Do We Use? We seek to protect Personal Data using appropriate technical and organizational measures based on the type of Personal Data and applicable processing activity, using at all times commercially reasonable methods.
Personal Data of Children: As noted in the section entitled "Our Policy Towards Age", we do not knowingly collect or solicit Personal Data from anyone under the age of 18. If you are under 18, please do not attempt to register for the App or send any Personal Data about yourself to us. If we learn that we have collected Personal Data from a child under age 18, we will delete that information as quickly as possible. If you believe that a child under 18 may have provided us Personal Data, please contact us at [support@alifsocial.com].
What Rights Do You Have Regarding Your Personal Data? You have certain rights with respect to your Personal Data, including those set forth below. For more information about these rights, or to submit a request, contact [support@alifsocial.com]. Please note that in some circumstances, we may not be able to fully comply with your request, such as if it is frivolous or extremely impractical, if it jeopardizes the rights of others, or if it is not required by law, but in those circumstances, we will still respond to notify you of such a decision. In some cases, we may also need to you to provide us with additional information, which may include Personal Data, if necessary to verify your identity and the nature of your request.
Access: You can request more information about the Personal Data we hold about you and request a copy of such Personal Data. You can also access certain of your Personal Data by emailing us at [support@alifsocial.com]
Rectification: If you believe that any Personal Data we are holding about you is incorrect or incomplete, you can request that we correct or supplement such data. You can correct some of this information directly by emailing us at [support@alifsocial.com].
Erasure: You can request that we erase some or all of your Personal Data from our systems.
Withdrawal of Consent: If we are processing your Personal Data based on your consent (as indicated at the time of collection of such data), you have the right to withdraw your consent at any time. Please note, however, that if you exercise this right, you may have to then provide express consent on a case-by-case basis for the use or disclosure of certain of your Personal Data, if such use or disclosure is necessary to enable you to utilize some or all of our App.
Portability: You can ask for a copy of your Personal Data in a machine-readable format. You can also request that we transmit the data to another controller where technically feasible.
Objection: You can contact us to let us know that you object to the further use or disclosure of your Personal Data for certain purposes, such as for direct marketing purposes.
Restriction of Processing: You can ask us to restrict further processing of your Personal Data.
Right to File Complaint: You have the right to lodge a complaint about Alif's practices with respect to your Personal Data with the supervisory authority of your country or EU Member State.
Transfers of Personal Data: The App are hosted and operated in the United States ("U.S.") through Alif and its service providers, and if you do not reside in the U.S., laws in the U.S. may differ from the laws where you reside. By using the App, you acknowledge that any Personal Data about you, regardless of whether provided by you or obtained from a third party, is being provided to Alif in the U.S. and will be hosted on U.S. servers, and you authorize Alif to transfer, store and process your information to and in the U.S., and possibly other countries. You hereby consent to the transfer of your data to the U.S. pursuant to the EU-US Privacy Shield Framework, the details of which are available at https://www.privacyshield.gov.
What If You Have Questions Regarding Your Personal Data? If you have any questions about this section or our data practices generally, please contact us using the following information: Mohammed Abid, Chief Executive Officer, at [mohammed@alifsocial.com].
5. MODIFYING YOUR REGISTRATION INFORMATION.
You may access or modify the Registration Information you provided at anytime or permanently delete your Account (let's hope it never comes to that!).
When your Account is deactivated, we take reasonable efforts to make sure it is no longer viewable on the App. For up to 30 days it is still possible to restore your Account if it was accidentally or wrongfully deactivated. After 30 days, we begin the process of deleting your Account from our systems. We are not responsible for any information, pictures, comments, or other content that is deleted from our systems resulting from the deactivation of your Account. To prevent abuse and/or misuse of Alif by a User following termination or deletion of a profile / Account we shall retain such information as we deem in our sole discretion may be necessary to ensure that User does not open a new Account and profile in breach of our Terms and Conditions of Use and to ensure compliance with all laws and regulations.
Warning: Even after you remove information from your profile or delete your Account, copies of that information may still be viewable and/or accessed to the extent such information has been previously shared with others, or copied or stored by other Users or to the extent such information has been shared with search engines. We cannot control this, nor do we accept any liability for this. If you have given third party applications or websites access to your personal information they may retain such information to the extent permitted under their terms of service or privacy policies.
Removed and deleted information may persist in backup copies for up to 30 days to enable restoration, but will not be available to others in the meantime.
6. OUR POLICY TOWARDS AGE.
Although we want as many people as possible to enjoy our creation, you have to be at least 18 years old to use the App - sorry youngsters, we know Alif is cool, but you'll have to come back when you're a little older!
Our policy is to not market to children, minors or anyone under the age of 18. If you are less than 18 years old, do not submit information to us—you'll have your chance when you are 18. If we become aware that a child, minor or anyone under the age of 18 has registered with us and provided us with personal information, we will take steps to terminate that person's registration and delete their Registration Information from Alif. If we do delete a profile because you violated these age-related rules, we may retain your email and IP address to ensure that you do not try to get around our rules by creating a new profile.
7. CHANGES TO THIS POLICY.
As Alif evolves, we may revise this Privacy Policy from time to time. The most current version of the policy will govern our use of your information and will always be at Alif.com/privacy. If we make a change to this policy that, in our sole discretion, is material, we will notify you, for example, via an email to the email associated with your Account or by posting a notice within Alif. By continuing to access or use the App after those changes become effective, you agree to be bound by the revised Privacy Policy.
8. SECURITY.
Here at Alif we are proud of our efforts to help protect your information against loss, misuse and unauthorized access, or disclosure—its very important to us. We use reasonable security measures to safeguard the confidentiality of your personal information such as secured servers using firewalls.
Unfortunately no website or Internet transmission is ever completely 100% secure and even we cannot guarantee that unauthorized access, hacking, data loss or other breaches will never occur, but here are some handy tips to help keep your data secure:
Please make sure you log out of your Account after use as you never know who may stumble onto your Account!
Please don't share your social media password with anyone else!
Change your social media password periodically.
If you ever think someone has had access to your social media password, please report it to the relevant social media platform and change your password immediately. We cannot guarantee the security of your personal data while it is being transmitted to our site and any transmission is at your own risk
WE EXPRESSLY DISCLAIM ANY REPRESENTATION OR WARRANTY, WHETHER EXPRESS OR IMPLIED, WITH RESPECT TO ANY BREACHES OF SECURITY, DAMAGE TO YOUR DEVICE, OR ANY LOSS OR UNAUTHORIZED USE OF YOUR REGISTRATION INFORMATION OR OTHER DATA.
9. THIRD PARTY ACCOUNTS.
If you have registered with Alif using a third party social media platform, such as Facebook, your Alif profile will be available to all Users of Alif whether via our App or our partners' websites. Remember that when you register with a third party, you are also giving them personal information, so we recommend that you read their privacy policies as Alif does not control how they use their information.
If you have registered on one of these third party websites, such as Facebook, or you have verified your Account via a third party website, we may connect your Alif profile with your profile on such website. We may do this by way of new products and applications which we introduce from time to time, including new products powered by our group companies. If you have created a Alif profile through a third party website and you do not want to link your Alif profile to your profile on the third party website, Alif cannot amend these settings. Please visit the application settings on your third party website profile and follow the instructions to remove the Alif access permissions.
We only use the APIs, OAuth Tokens, Widgets, or other means provided by the applicable Social Media Account to integrate your Social Media Account with our App. As such, we only receive the limited information that each Social Media Account permits to be transferred.
10. YOUR CALIFORNIA PRIVACY RIGHTS.
California's "Shine the Light" law, Civil Code section 1798.83, requires certain businesses to respond to requests from California customers asking about the businesses' practices related to disclosing personal information to third parties for the third parties' direct marketing purposes. If you wish to find out about any rights you may have under California Civil Code section 1798.83, you can write to us at support@alifsocial.com.
From time to time we may disclose your contact information to third parties to allow them to market their products or services to you or for other marketing purposes. This may be information we received from you offline and online. If you want us to stop further sharing your email contact information with third parties (if we have your email contact information), you may notify us at support@alifsocial.com. Please follow the instructions provided to you by third parties to unsubscribe from their messages. If you have opted-out as described above, and thereafter you chose to use a service or promotion that requires us to contact you or share your information with a third party, then your previous optout preferences will not apply to such service.
In addition, under California law, operators of online services are required to disclose how they respond to "do not track" signals or other similar mechanisms that provide consumers the ability to exercise choice regarding the collection of personal information of a consumer over time and across third party online services, to the extent the operator engages in that collection. At this time, we do not track our Users' personal information over time and across third-party online services. This law also requires operators of online services to disclose whether third parties may collect personal information about their users' online activities over time and across different online services when the users use the operator's service. We do not knowingly permit third parties to collect personal information about an individual User's online activities over time and across different online services when using the App.
11. ABOUT US.
Your access to the App, as well as this Privacy Policy are governed and interpreted by the laws of the State of California, other than such laws, rules, regulations and case law that would result in the application of the laws of a jurisdiction other than the State of California. By using the App, you are consenting to the exclusive jurisdiction of the courts of the United States, the State of California, and the county of Santa Clara. You agree that such courts shall have in personam jurisdiction and venue and waive any objection based on inconvenient forum. You agree that you will not file or participate in a class action against us. In the event there is a discrepancy between this English language version and any translated copies of the Policy, the English version shall prevail.
You made it to the end, phew—now go out there and meet some awesome new people with Alif!
Effective date
This Privacy Policy was last updated on 15 May 2018.